By the end of 2021, Microsoft will have unique versions of Windows widely available; Windows 11, Windows 365 Cloud PC, and Azure Virtual Desktop. The demand for cloud-based solutions has accelerated tremendously over the past year. Businesses and schools have needed to quickly adapt to remote work and distance learning in a hybrid world. Through the deployment of remote desktops and applications via the cloud, Microsoft's Windows 365 Cloud PC and Azure Virtual Desktop enable your IT department to easily support accessibility for users, on any device, from anywhere. But what is Windows 365 Cloud PC and how does it compare to Azure Virtual Desktop?
Windows 365 Cloud PC and Azure Virtual Desktop: What are the Differences?
Both solutions offer the latest in cloud technology: built-in security, a premium remote work experience, flexibility—and all cost-effectively. Azure Virtual Desktop is a cloud VDI (virtual desktop infrastructure) that allows you to fully customize your customer's infrastructure and manage the resources supporting the virtualized infrastructure. Windows 365 Cloud PC is a fully managed Desktop as a Service (DaaS) solution providing the same great desktop experience as Windows, but without the hassle of managing infrastructure.
Why Windows 365 Cloud PC
It's simple—predictable per-user pricing, turn-key to buy and deploy, and no special IT skills required.
It's scalable—provides the ability to scale up or scale down compute power and storage.
It's the right service for the right need:

If you have not been previously serviced by Azure Virtual Desktop.
You have a hybrid/dispersed or elastic (seasonal) workforce that want their PCs managed.
Why Azure Virtual Desktop
It gives you the best price on Windows 10 with Windows 10 multi-session, exclusive to Azure Virtual Desktop.
It's fully customizable, runs on Azure, and is the most affordable solution.
It's the right solution if:

You are comfortable with VDI solutions and want to upgrade to the leading technology at an industry-leading price.
You want the flexibility of fully customized environments.
Operating Systems Available on Windows 365 Cloud PC and Azure Virtual Desktop
All Microsoft's remote desktop products require Azure Subscriptions. The difference is that Windows 365 subscriptions reside fully in Microsoft's Azure subscription and are fully managed by Microsoft at fixed costs. Meanwhile, Azure Virtual Desktop (AVD) is entirely customer-managed with flexible consumption-based pricing.
Cloud Storage
Focused on ease of use and setup, Windows 365 provides fully managed storage with fixed pricing. Lack of admin access to the VMs can make it challenging to back up, but with Microsoft managing it, the hope is that it will not be required. For AVD, it is all about flexibility with OS Disks, FSLogix profiles, and the ability to easily back up storage and VMs.
Cloud Networking
Windows 365 Enterprise has fully customer-managed networking with flexible routing, IPs and security. Meanwhile, Windows 365 Business will remain fully Microsoft-managed with no flexibility. For AVD, networking flexibility is a requirement with no Microsoft management provided.
User Profile Management
Windows 365 is a single-user managed desktop which will run in Microsoft's Azure environment. As such, it will have a single user profile and no need for multi-user profile management. In Azure Virtual Desktop, FSLogix is a profile container holding user profiles in a Virtual Hard Disk v2(VHDX) file. When the user signs in to AVD FSLogix redirects to the data and settings in the container and the virtual drive is mounted to transparently integrate into the virtual desktop environment. In pooled multi-user AVD deployments FSLogix is mandatory to manage the individual user profiles in the pool. In Single user AVD instances, FSLogix is optional and while it is not required it does provide additional portability.
User Identity and Accessibility
In Windows 365 business, only Active Directory (AD) Join will be available, while in enterprise Hybrid AD Join will be required. There is no AD Domain Services support for either type of Windows 365 Subscription. With Azure Virtual Desktop, AD Domain Services is required and both Windows AD and Azure AD DS are supported. Native Azure AD join is currently on the road map for the upcoming release.
The Value of a Microsoft Gold Partner
Identifying the right remote desktop solution and measuring the impact on your organization and stakeholders is a daunting task. Working with a Microsoft Gold Partner helps your IT department effectively identify both short-term goals and long-term goals, how each solution streamlines those goals and the overall impact of implementation. Microsoft Gold Partners, like Strategic Communications, are vetted by Microsoft in delivering the utmost quality in consultation, solution implementation, and continued customer success. For questions and inquiries regarding Windows 365 Cloud PC or Azure Virtual Desktop, please contact us at www.yourstrategic.com/contact-us.
---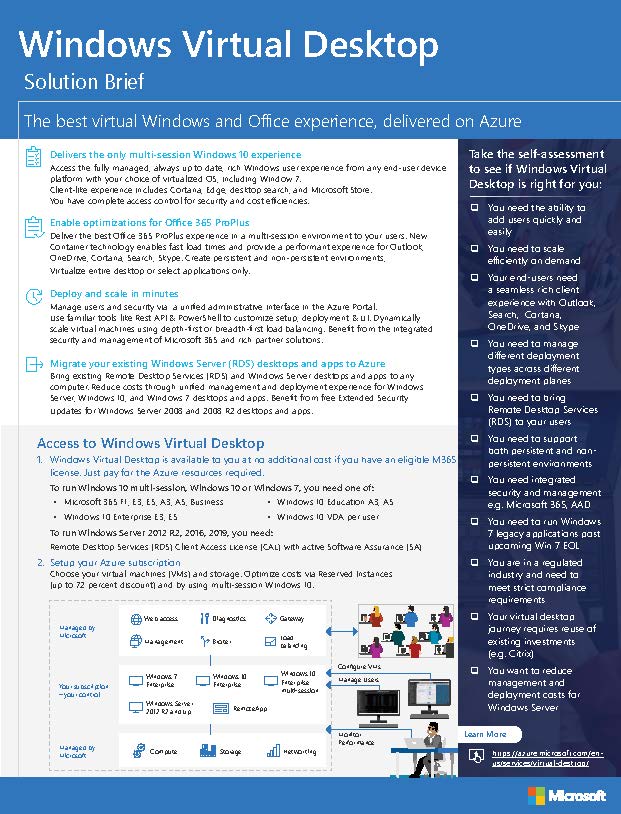 Download the Azure Virtual Desktop solution brief "The Best Virtual Windows and Office Experience, Delivered on Azure"